| | |
| --- | --- |
| Departmental Staff | |
| Mr D Cooke | Music Teacher |
| Mrs H Bentley | Drama Teacher |
| Mrs D Alderson | Drama Teacher |
| Mrs C Novell | English/ Drama Teacher |
| Mrs D Pearce | 4th Wall |
| Mrs V Elizaga | 4th Wall |
Key Stage 3 (years 7 – 8)
In years 7 and 8 students will have the opportunity to access Music and Drama for a year each. For example, if a student studies Music in Y7, they will then move to Drama in Y8. KS3 is organised into half-termly units, throughout the year students partake in workshops covering both art forms and each term will culminate into a final performance. Students are given the opportunity to study a range of musical instruments, to date this has included ukulele, trumpet, clarinet and harmonica
Drama at Key Stage Three:
In Drama students begin the course with a unit called "The London Bus" which covers basic drama skills such as characterisation, still images, thought tracking, duologues and mime work and provides students many opportunities to both self and peer assess to improve their work before their final assessment.  For the rest of the key stage three course students will undertake units on commedia dell'arte focusing on mask work and how comedy is created, the missing case of Josie Hunter, melodrama and physical theatre before moving onto issue based projects which include the Holocaust, bullying and homelessness.
Music at Key Stage Three:                                                                     In Music, the curriculum is designed to ensure students can perform, listen to, review and evaluate music across a range of historical periods, genres, styles and traditions, including the works of the great composers and musicians. Students learn to sing and to use their voices, to create and compose music on their own and with others, have the opportunity to learn a musical instrument, use technology appropriately and have the opportunity to progress to the next level of musical excellence. Students understand and explore how music is created, produced and communicated, including through the interrelated dimensions: pitch, duration, dynamics, tempo, timbre, texture, structure and appropriate musical notations.
Key Stage 4 (years 9 – 11)
Curriculum studies at KS4 are significantly different from that of KS3, in that it follows a programme of study governed by an examination board. The training for these exams is carried out through exercises similar to those found in the examination or the production of coursework throughout the year. Coursework is marked in accordance with criteria supplied by the examination boards and students are made aware of the outcome. The department currently offer the following KS4 qualifications: KS4 qualifications offered: Edxecel BTEC Music (First Award), Edexcel GCSE Music, AQA GCSE Drama
Drama at Key Stage Four:
From year 9 students who have opted to take Drama at GCSE follow the specification from AQA.  This involves an introductory units on drama basic skills covering key techniques and drama mediums.  This is followed by a scheme of learning on key drama practitioners to provide all students with the same skills set and understanding on the works of Stanislavski, Brecht, Berkoff, Artaud and Leigh each unit ending with a mini assessment to check understanding.  Students will study the different types of staging and the roles undertaken in the theatre. Next there is a devised unit with accompanying devising log and scripted units in the form of extracts from plays performed as monologues, duologues and group pieces.  There is also the study of a set text in preparation for the written exam in year 11 and a live theatre review derived from a range of theatre trips that are organised by the department over the three years.
Music at Key Stage Four
From Year 9 students can either follow the BTEC Level 2 pathway or GCSE pathway.
GCSE Music:
In Music, the curriculum is designed to ensure students have the opportunity to build on the understanding gained at key stage 3 and ensure progression into AS/A-Level Music. They will study a qualification that reflects the demands of a truly modern and evolving music environment. Students are given the chance to apply themselves and give them the skills to succeed in their chosen pathway.  The structure of the course allows practical performances, production of compositions and theoretical application through a written exam. The set works provide students' knowledge of real example of music elements, contexts and language used in different types of music. The practical methods used by students ensures a holistic view of their knowledge, performance and compositional skills. Students gain a breadth and depth of different musical styles and genres; develop critical and creative thinking, cultural, aesthetic and emotional awareness and the ability to make music as an individual or group.
BTEC Music: This course allows you to engage with the music industry and develop a range of relevant practical and technical skills. You will explore music product development and events management, and apply your knowledge in new and practical industry-related contexts. The qualification is 120 GLH, which is the same size and level as a GCSE, and is aimed at everyone who wants to find out more about the music industry. Students study the following two mandatory units, covering the fundamental knowledge, skills and understanding required for the music sector: ● the music industry ● managing a music product. You will build on the knowledge gained in the mandatory units, and explore two subsectors of the music industry, by choosing a further two units, covering areas such as: ● introducing music composition ● introducing music sequencing.
For more information please click on the links below
Edexcel GCSE Music
AQA GCSE Drama – New Specification
Pearson – Btec Music
Pearson Btec Performing Arts
Key Stage 5 (years 12 – 13)
Curriculum design at Key Stage Five is similar in nature to Key Stage Four and operates within the prescribed boundaries provided by the exam board.
We currently offer: Edexcel Drama and Theatre Studies – 2 Year Course
Performing Arts at Key Stage 5 Pearson – Level 3 BTEC Performing Arts
The Extended Certificate is for learners who are interested in learning about the performing arts sector alongside other fields of study, with a view to progressing to a wide range of higher education courses, not necessarily in performing arts. It is designed to be taken as part of a programme of study that includes other appropriate BTEC Nationals or A Levels.
For more information please click on the links below:   
Edexcel GCSE Music  
Edexcel A2 level Drama and Theatre Studies
KS5 Performing Arts Options Book
Extra Curricular                                                                                     
* we are currently adapting how we operate enrichment opportunities, due to Government guidance on returning to secondary school in September 2020
4th Wall
4th Wall is All Saints' theatre company that is run by two members of our staff Mrs Pearce and Mrs Elizaga who's role is to produce our musicals and drama productions. To date these have included summer productions of We Will Rock You, Hairspray, High School Musical, Happy Days, Annie and The Wiz. The Christmas Pantomimes include Aladdin, Cinderella Jack and the Beanstalk Peter Pan and Robin Hood. Mrs Pearce and Mrs Elizaga also take 2 devised pieces of musical theatre and 2 drama workshops to each of our feeder primary schools. This is provided for year 5 and 6 students. Annually 4th wall competes in The Mansfield Junior Showtime, where for the last 4 years we have reached the final and performed at the Mansfield Palace Theatre.
4th Wall meet at lunchtimes in PA2 and Thursday afternoons from 3.35 – 5.30pm when students have the opportunity to learn performing arts skills and rehearse for large productions.4th Wall is open to all students across the school. 2018 brought new beginnings as we have added a further production to our diary in the form of the staff pantomime this now set to be a yearly production.
6th Wall
The 6th Wall theatre company is a new development of 4th wall that is exclusively for VI form students focussing on straight plays. As part of this group students learn what it is like to work as part of a professional theatre company through acting, stage management and production. To date performances have included John Godber's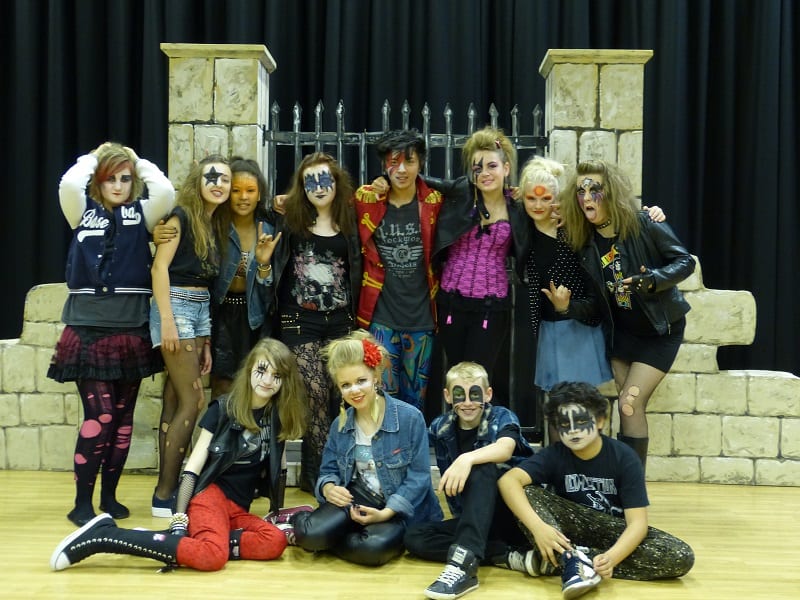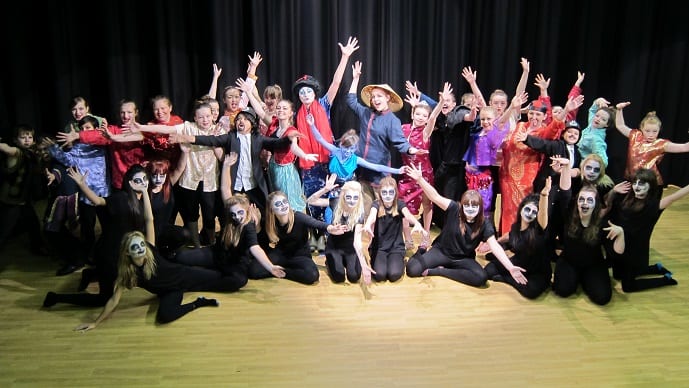 Choral Ensembles
School Choir – This is a unique ensemble rehearse every Tuesday and Thursday during form time, in the school chapel. We perform regularly throughout the year, in competitions, to raise money for charity and for liturgical events such as Nine Lessons in Carols held every December. We have recently performed in Mansfield's Big Christmas Lights Switch On 2018 * we are currently adapting how we operate enrichment opportunities, due to Government guidance on returning to secondary school in September 2020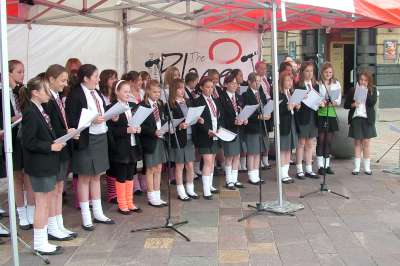 Swing Band
Our swing band rehearse every Tuesday from 3:40-4:30. This is a great opportunity for students who have peripatetic instrumental lessons to showcase their abilities. Instruments range from Clarinet to Euphoniumm, we play swing classics to current popular music!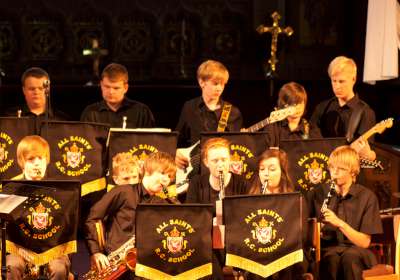 Instrumental Tuition
There is a continued interest shown by our students in this area of our curriculum.  The success of the School Choir and the Band in particular has illustrated their enthusiasm and we are keen to build on this. Any students wishing to have tuition at All Saints' Catholic Academy are advised to speak to Mr Hardy to arrange this, or visit the multi academy music page of this website.