| | |
| --- | --- |
| Departmental Staff | |
| Miss D Humphreys | Curriculum Leader |
| Miss R Davie | Physical Education Teacher |
| Miss H Flint | Physical Education Teacher |
| Mr G Curtis | Physical Education Teacher |
| Mr R Goodwin | Physical Education Teacher |
| Mr L Slater | Physical Education Teacher |
Sport is at the heart of our Catholic life providing every student with the opportunity to fulfil their dreams and aspirations in the embodiment of the school's moto 'We Shall Serve'.
The PE Department at All Saints' aims to provide an enjoyable, accessible and broad programme of study, which will enable students to develop physically and socially and encourages positive attitudes towards a healthy lifestyle. The Department consists of six PE Specialists, all of whom teach across the full age and ability range; this is complemented by several other staff that assist with the many extra-curricular activities offered at All Saints'.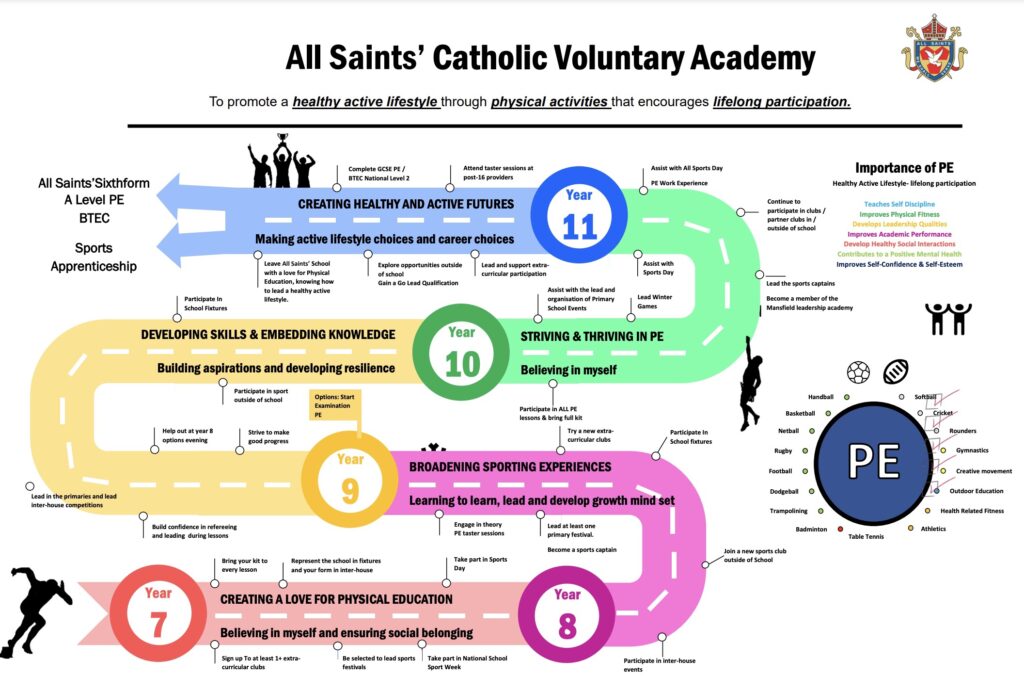 The school is well resourced and values the importance of Physical Education. It has extensive playing fields, outdoor courts, a sports hall and fitness suite, PE specific classroom and changing facilities. These facilities provide a wonderful opportunity to offer a wide ranging curricular and extra-curricular programme.
Our inclusive extra-curricular programme is also an outstanding venue for our students to experience widespread leadership opportunities; we have a legacy of exceptional primary sports leaders who organise and lead festivals for our primary feeders. We are in partnership with Mansfield leadership academy, offering students further qualifications and experience at level 3 competitions. Students have the opportunity, through application to steer sport leading inter-house competitions, as well as supporting Extra-curricular provision.
The department is committed to broadening the sporting horizons of our young people and we enjoy the privileges of taking students on a variety of sporting trips both at home and abroad. These memorable experiences give our students exposure to sport in a new environment as well as a cultural immersion.
At All Saints' we believe it is incredible important to acknowledge the accomplishments of our students both inside and out of school. At termly commendations and at our prestigious annual sports Awards evening, students are given the praise and recognition they deserve.
At the heart of our philosophy is the desire to provide each of our students with the opportunity to access high quality physical education in our warm and friendly community. We firmly believe that learning extends beyond the classroom and everyone is encouraged to participate to develop their skills and also to understand the importance of an active healthy lifestyle and the value of working as part of a team.
PE Kit List
As per the planner – PE Kit
Students are required to have the following kit, available from our suppliers:
Crystal Knitwear
Blue and black panel polo shirt
Black hooded top
Blue football socks
(All with the All Saints Logo – supplied by Price & Buckland)
Training shoes (non-marking soles)
Football boots (Desirable)
Optional items:
Blue and black rugby shirt (All with the All Saints Logo – supplied by Price & Buckland)
Mouth guard
Black/white thermal base layer (available from the PE department)White ankle socks
Shin pads
GCSE, BTEC PE Students and Sports Leaders
Specialised PE kit is available to order from the school website, to include polo shirt, hooded top and track suit bottoms, with the students initials embroidered onto each item of clothing:
http://www.kitlocker.com/allsaints
Valuables procedure (PE)
• Pupils MUST hand in any items which they consider to be of value.
• Staff will request valuables and put into a sealable plastic wallet.
• Items in the wallet must have some means of identification with them.
• Pupils reclaim their valuables at the end of the lesson.
• Any wallets not collected will be retained by the Department until collected.
• The school is not responsible for any item that is not handed in.
Pupils who are not able to participate in PE lessons are required to produce a
note from a parent/carer with, if appropriate, the reason for the request.
Pupils, however, should still have their kit as there will be some way in which they can contribute to the lesson, such as leading and organising a warm up activity.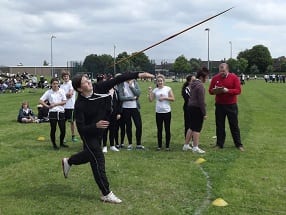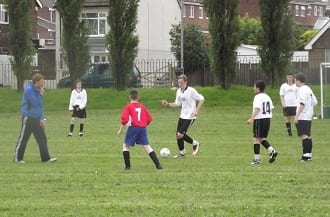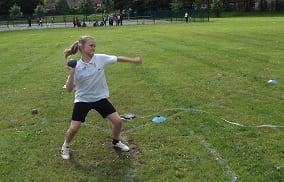 Curriculum intent
In PE, the curriculum is designed to ensure students perform effectively in different physical activities by accurately and fluently selecting and using tactics, strategies and/ or compositional ideas. Students understand the contribution to which physical activity and sport make to health, fitness and well-being and follow by example. Students have an excellent understand and application of the physiological, psychological and social-cultural issues that affects performance in physical activity and sport. As a result, students will be confident and fluent communicators who are able to accurately interpret, analyse and evaluate complex and varied ideas with precision.
Core PE
Core PE is offered for students from year 7-11. The aim of a high-quality curriculum is to inspire students to succeed and excel in competitive sport and other physically-demanding activities. It provides opportunities for pupils to become physically confident in a way which supports their health and fitness whilst building character and helping to embed values such as fairness and respect.
We look to promote the following key concepts:
Skills development of the range and quality of skills
Fitness and health for positive living
Social and moral education
Expressive and creative development
To prepare for future education and leisure
To promote participation, LORIC and enjoyment amongst all pupils
Key Stage 3 (Year 7 – 8)
In Years 7 to 8 pupils are taught in in 3 mixed groups rotating around 3 activities per term.
The Curriculum across the Key Stage is organised to allow access for pupils to experience individual activities, such as OAA (outdoor and adventures activities , gymnastics, creative movement, trampolining and athletics; invasion games, such as Rugby; divided court activities, such as badminton and tennis and striking; and fielding activities such as rounders and cricket. Students are assessed once a term, within the following strands: Range and quality of skills, Health and fitness and Decision making.
Key Stage 4 (Year 9-10)
In Years 9 -11 pupils are generally taught in single gender classes and participate in 2/3 activities per term, having 2 x 1 hour lessons per week. Activities delivered aim to build on previous learning, whilst allowing students more variety.
Examination PE
Key stage four begins in Year 9, where students have the option to take examination PE. Students will complete a full term, before the carful decision is made as to what course they will follow, GCSE (OCR specifications) or BTEC (Pearsons') PE. For both courses, the practical elements of the courses are continually assessed, with the theory element being taken as an external exam at the end of Year 11 (GCSE) and Year 10 (BTEC).
GCSE PE (OCR specification)
Our GCSE in Physical Education equips students with the knowledge, understanding and skills to develop their own performance in sport. They develop their understanding of socio-cultural influences on participation in sport, and the benefits of physical activity to health, fitness and well-being.
Assessment
The content of OCR's GCSE in Physical Education is divided into three components. Each component is further sub divided into topic areas and the detailed content associated with those topics.
Component 01 (30%): Physical factors affecting performance
Component 02 (30%): Socio-cultural issues and sports psychology.
Component 03 (40%): Performance in physical education (NEA)- Performance of three activities taken from the two approved lists*. Furthermore, students will complete one piece of course work, Analysing and Evaluating Performance (AEP), contributing to 10% of the NEA.
* Students taking part in activity outside of school, such as skiing, can be assessed in this, they need to obtain the criteria from a member of PE and provide DVD evidence.
BTEC Level 2 in Sport, Pearson's 
Students will complete 3 mandatory units and 1 optional unit.
Unit 1: Fitness for sport and exercise (External Assessment – on computer at the end of year 10).
Unit 2: Practical sports performance (Internal Assessment)
Unit 3:  Training for Personal Fitness (Internal Assessment)
Unit 6: Leading Sports Activities (Internal)
All internally assessed work will consist of continual assessments, with formal assessment every half term.
All Saints' 6th Form (KS5)
A level Physical Education (OCR specification)
Studying A-Level Physical Education will give you a fantastic insight into the amazing world of sports performance. Not only will you have the chance to perform or coach a sport through the non-exam assessment component (30%), you will also develop a wide ranging knowledge into the how and why of Physical activity and sport (70%).
What will I study? AS and A Level PE includes the compulsory study of: Applied Anatomy and Physiology, Exercise Physiology, Biomechanical Movement, Skill Acquisition, Sports Psychology, Sport and Society and the Role of Technology in Physical Activity and Sport. Alongside this are the skills of PE which are examined via the Non-exam assessment (NEA) component on performance.
Assessment
Component 01: Physiological factors affecting performance: 2-hour paper
Component 02: Psychological factors affecting performance: 1-hour paper
Component 03: Socio-cultural issues in physical activity and sport: 1 hour paper
Component 04 (30%) : Performance in physical education (NEA): Performance or coaching in one sport/ activity. The Evaluation and Analysis of Performance for Improvement (EAPI).
A wide range of Question types including: single mark, short answer and extended response questions.
How will I develop over the two years? Physical Education is studied though a range of different contexts and the impact it has on both ours and other's everyday lives. You will learn the reasons why we do things, why some people out perform others, mentally and physically. You will also delve into the ethical considerations behind the use of drugs and also the influence that modern technology is having in and on physical activity and sport.
Potential Career paths:
– A Level Physical Education is an excellent base for a university degree in sports science, sports management, healthcare, or exercise and health. Physical Education can also complement further study in biology, human biology, physics, psychology, nutrition, sociology and many more.
– A Level Physical Education can open up a range of career opportunities including: sports development, sports coaching, physiotherapy, personal training or becoming one of the next generation of PE teachers. The transferable skills you learn through your study of Physical Education, such as decision making and independent thinking are also useful in any career path you choose to take.
BTEC Level 3 National certificate in Sport

BTEC Sport provides a broad base of study for the sport sector, as part of a one-year full time study programme, or two-year programme, normally in conjunction with one or more qualfications at level 3.
Mandatory units:
1. Anatomy and Physiology (120 GLH)- external exam
2. Fitness Training and Programming for Health, Sport and Well-being (120 GLH) – externally assessed
3. Professional Development in the Sports Industry (60 GLH) – Internally assessed
7. Practical sport (60 GLH) – Internally assessed
Optional units:
Application of Fitness Testing
6. Sports Psychology
8. Coaching for Performance
9. Research Methods in Sport
10. Sports Event Organisation
11. Research Project in Sport
Assessment
BTEC Nationals use a combination of assessment styles to give students confidence they can apply their knowledge to succeed in the workplace – and have the study skills to continue learning on higher education courses and throughout their career.
Externally-assessed units
Each external assessment for a BTEC National is linked to a specific unit. All of the units developed for external assessment are of 120 GLH to allow you to demonstrate breadth and depth of achievement. Each assessment is taken under specified conditions, then marked by Pearson and a grade awarded.
Internally-assessed units
Two units in the sector are internally assessed and subject to external standards verification. This means that you will be set two-three assignment briefs for each unit. Assignment briefs will encompass many opportunities to: • write up the findings of your own research • use case studies to explore complex or unfamiliar situations • carry out projects for which you have choice over the direction and outcomes • demonstrate practical and technical skills.
What skills will help me / Personal Qualities?
Active involvement in sport/physical activity in order to be successful in the application of all theoretical knowledge into a sporting context. Students will require the ability to work as a team and independently, have exemplary  organisation and the desire to develop knowledge across all topic areas. As assessment is a variety of written tasks, assignments and exam, students need to have a flexible approach to learning, but overall enjoy sport and physical activity to ensure enjoyment and ultimately successful passing the course.
How will I develop over the two years? Physical Education is studied though a range of different contexts and the impact it has on both ours and other's everyday lives. You will learn about the scientific aspects of sport, as well as the sports industry overall and how to be a proficient sports performer but also leader.